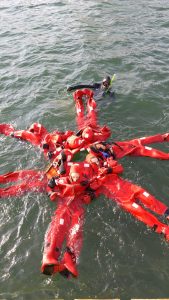 USCG-accepted
and Alaska Marine Safety Education Association certified trainers of cold-water survival procedures, marine safety equipment and on board safety drills. Provided for: commercial fishermen, private industry, government agencies, fisheries observers & at-sea monitors, research groups.
Topics Fathom Resource instructors cover include:
The "Seven Steps to Survival"(a priority listing of steps to take during an emergency), the role of preparation in dealing with emergencies, and survival kits.
Overview of types of personal flotation devices (PFDs), includes advantages, disadvantages, and maintenance as well as cold-water survival techniques. A pool practical is included.
Hands-on demonstrations and practice with survival equipment (EPIRBs, life rafts, flares, immersion suits, etc.), firefighting equipment, abandon ship procedures, vessel stability, USCG-assisted evacuations, vessel orientation, emergency instruction, and station bills. This section meets USCG training requirements for documented fishing vessels, and usually includes actual drills onboard a vessel.
Hypothermia physiology, prevention, recognition, and treatment in accordance with the latest State of Alaska guidelines.
Theories of risk assessment, risk perceptions and tolerances, how to increase risk recognition skills, and risk management as applicable to teaching marine safety and workplace and in recreational activities.
Custom Marine Courses – Fathom can design and execute courses targeting your specific marine niche.